Term 1 Newsletter 23/24
Welcome from the Headteacher
Dear QEHS Community,
Blink and here we are at the end of Term 1. Where the past seven weeks have gone is hard to tell. The articles presented in this first newsletter of the new academic year, however, certainly serve to demonstrate just how effectively the wonderful students and staff of this fine school have spent this time. Once again, as you will see, so much has been taking place and so much has been achieved by so many.
To welcome students and colleagues back in September following such a successful examination season meant that the entire school community could proudly reflect on how hard work, determination and dedication really does pay off. Building on the 2022 'best since 2014' A Level results, 2023 heralded the following grade percentages: A* = 10% (last year 9%), A*-A = 34% (last year 33%) and A*-B = 62% (last year 62%). Similarly, building on the 2022 'best since 2011' GCSE results, summer 2023 saw an increase from the mightily impressive +0.33 Progress 8 Value Added figure of 2022 to a truly exceptional +0.39. (Nationally, this figure was -0.03). What this means is that QEHS students secured grades that were 0.39 better on average than students of equivalent abilities in other schools. Simply outstanding!
The work toward such outcomes as summarised above starts again now, and through the expansive QEHS educational offer it can already be seen where and how students are engaging with the academic and co-curricular opportunities presented to them. For example, student successes in the Cambridge Chemistry Challenge, the Industrial Cadet Award alongside trips to Silverstone and Gainsborough Old Hall all exemplify how empowering and enriching the Queenies experience truly is.
As always, there have been numerous individual student achievements. This term's Headteacher's commendations have recognised Evie's exceptional leadership of the Sixth Form Marketing Team, Lucy's exemplary work ethic, and Methuki's outstanding academic progress. There are sporting triumphs to celebrate for Holly and Jennifer as well as details of unique and life affirming experiences for both Luke and Tom. Your attention will also no doubt be drawn (no pun intended!) by the personal letter received by Chloe from Sir David Attenborough no less!
In this edition, you will also read of the significant improvements to the Environment for Learning at QEHS. DfE funding to the tune of £283,000 has resulted in a major upgrade to the school's digital capabilities and network capabilities, accelerating connection speeds and eliminating black spots across the site. Details of comprehensive £90,000 toilet refurbishments and new dining facilities also serve to demonstrate our commitment to enhancing the overall student experience here at QEHS.
Finally, may I take this opportunity to thank those of you who have attended the new Parental Pastoral Workshops that have taken place this term for Years 11, 7 and 8. These fantastic engagement events have facilitated some first-rate communication between home and school, and your input has been much valued. I look forward to seeing you at those workshops still to take place.
Kind regards,
Mr R Eastham
Headteacher
Published on: 11 Oct 2023
Junior Presentation Evening
On Wednesday 20 September, QEHS was proud to host the annual Junior Presentation Evening where we celebrated the achievements of students from the previous academic year.
QEHS is very fortunate to benefit from a number of trophies or financial donations which have been provided as prizes. For example, the annual donation from the Old Girls' Association finances several prizes in addition to the ones named below. The School is very grateful to all benefactors. The remaining cost of prizes comes from our School Fund which ensures all prize winners receive a certificate and a book token.
Junior Presentation Evening was a fantastic event and the prize winners rightly basked in the glowing pride shown by parents, friends, family and teachers alike. Below are the details of prize winners. Well done to all.
YEAR PRIZES
Year 7
Prizes awarded for academic attainment and achievement in the academic year 2022/2023:
| | | |
| --- | --- | --- |
| Larissa B | Hazel H | Nicholas P |
| Thomas B | Starla H | Preesha R |
| Jessica C | Isaac M | Lexi S |
| Isla C | Ava M | Charlotte S |
| Stansie C | Heidi N | Akshath S |
| Erica F | Harrison P | Shiva S |
| Olivia G | Marli P | Annabelle W |
| Yuki H | Imogen P | Nicole Z |
Year 8
Prizes awarded for academic attainment and achievement in the academic year 2022/2023:
| | | |
| --- | --- | --- |
| Johan A | Toby D | Zoe M-W |
| Lottie A | Alice E | Beshoy M |
| Emilia B | Brooklynne F | Misha M |
| Isabelle B | Niamh H | Sebastian R |
| Ellie B | Annie H | Zach R |
| Taylor C | Ann K | Christine V |
| Freya C | Aleksander K | Bakhtawar W |
| Caitlyn D | Harry M | Ruby W |
Year 9
Prizes awarded for academic attainment and achievement in the academic year 2022/2023:
| | | |
| --- | --- | --- |
| Taylor A | Monty D | Martyna K |
| Poppy B | Lucie F | Isaac K |
| Mollie B | Mackenzie F | Alice L |
| Kevin C | Thomas G | Rayne M |
| Ethan C-D | Poppy G | Ruby N |
| Evelyn C | Isabelle G | Talitha O |
| Milan C | Alfie H | Pavithira R |
| Emma D | Anna J | Licsha S |
Year 10
Prizes awarded for academic attainment and achievement in the academic year 2022/2023:
| | | |
| --- | --- | --- |
| Karam A | Charlotte C | Shriya N |
| Farhan A | Olivia E | Jasleen N |
| Theo B | Eloise F | Matyas R |
| Dan B | Lucy H | Reuben S |
| Isla B | Methuki I | Oliver S |
| Anna B | Oskar J | Dulanya S |
| Zakareya C | Georgina L | Petar T |
| Leo C | Isabelle M | Madie W |
SUBJECT PRIZES
Nina Ridley Memorial Cup for Spoken English

Matthew H

The J S Prize for Science

Muhammad M

Lynsey Porter Prize for Junior School Music

Licsha S

The Elizabethan Founder's Cup for Drama

Ellie M

Charles F. Everatt Cup for Debating

Thomas G

Bend in the River KS3 Art Prize

Grace R

Mike Parsons QEHS Community Cup

for service to the local community

James T

Kate Walker Memorial Prize for Courage

for cheerfulness and determination in the face of adversity

Harriet P

Ron Ewart Prize

for the best all round female sportsperson

Matilda V D H

Caldicott Trophy

for the best all round male sportsperson

Monty D

Junior Andrew Stewart Prize for Active Citizenship

nominated by student body

Reuben S

Alyssa B
SCHOOL FACULTY PRIZES
School Prize for Arts

Freya H-R

School Prize for English

Annabelle W

School Prize for Humanities

Poppy G

Thomas G

School Prize for Languages

Grace H

School Prize for Mathematics

Sajin J

School Prize for PE

Isobelle B

School Prize for Science

Lottie A

School Prize for Social Sciences

Isla B

School Prize for Technology

Olivia L
Published on: 11 Oct 2023
GCSE Exam Results 2023
Headline figures
98% of students attained a grade 4 or above in both English and Maths
82% of students attained a grade 5 or above in both English and Maths

96% of students achieved five grade 4s or higher including English and Maths

96% of grades across all subjects were 4-9

47% of grades were 7-9

61% of students attained at least five grades at 7-9

A quarter of students in the cohort achieved an average of a grade 8 or 9

41% of students achieved an average of grade 7 or above
Mr. Eastham, Headteacher, said:
Following on from the excellent A Level results attained by Year 13 last week, the staff and Governors of QEHS would like to congratulate our hard-working Year 11 students who have bucked the national squeeze on top GCSE grades this summer.
96% of results across all subjects were grade 4 or higher and just under half of all grades were between 7-9. Indeed, a quarter of the students averaged a grade 8 or grade 9 which is a stunning achievement and helped to generate positive Progress 8 once again. Therefore, despite the more challenging grade boundaries applied by exam boards across all subjects this year, the Class of 2023 has smashed pre-COVID statistics which demonstrates the progress being made across the broad curriculum offered here at QEHS.
The results data associated with this fantastic cohort's GCSE achievements really does make impressive reading. 96% of students secured five grade 4s or higher including English and Maths, with 61% attaining at least five grades at 7-9 which means 41% of our youngsters achieved an average grade of 7 or above.
Behind the figures there is of course the most important element to examination success – the students themselves. Three phenomenal individuals can boast a clean sweep of grade 9s across all of their subjects, with a further 24 presenting nothing below a grade 7. At all levels of achievement, it is clear that this year group has applied themselves to the rigours of study and have reaped the rewards. This comes as no surprise because the cohort is a tight-knit and mutually supportive bunch who have seen each other through some challenging times. The camaraderie and stoicism shown by Year 11 this year has been nothing short of inspirational. These students represent and should be celebrated as the very best of the youth of today.
Here at QEHS we strive at all times to offer an outstanding education and to be the destination of choice for academic excellence. This is achieved by providing an environment in which students are academically challenged, well cared for, and are afforded access to a broad range of fulfilling and enriching co-curricular activities. This can only be the case when there are high levels of collegiality between students, staff and parents. My personal thanks, therefore, are extended to all colleagues and families for the guidance and support you have offered our students.
Ahead of looking forward to the new academic year and the excitement of post-16 studies, now is the time for everyone to celebrate what has been achieved again this summer. Very well done Year 11 and many congratulations!
Mr. R Eastham
Headteacher
Published on: 11 Oct 2023
A Level Exam Results 2023
Headline figures:
48% of our students attained at least one A or A* grade

33% of grades were A* or A

25 students in the cohort achieved grades that were all either A or A* grades, with four students securing all grades at A*

46% of students achieved grades that were all of B or above

62% of grades were between A* and B

78% of grades were between A* and C

98% of students completing the EPQ secured A* to C grades, with 71% attaining A*/A grades

Across the full cohort, the average grade for students was B
Mr. Eastham, Headteacher, said:
On behalf of all colleagues and the Governing Body here at QEHS, I would like to congratulate our Year 13 students upon their fantastic A Level results. Very well done!
In the face of the promised 'firming up' of grade boundaries by examination boards and despite the government's declared intention to tackle grade inflation and to bring national exam results back in line with pre-pandemic figures, QEHS is thrilled to have maintained the high levels of success secured last academic year with the A Level outcomes achieved today by our fantastic 2023 Year 13 cohort. A*-B grades are, again, incredibly impressive, whilst the tally of top A*-A grades is the best the school has seen in externally assessed public examinations since 2014. This all means that the average A Level grade achieved by students this summer at QEHS stands at 'B' which is deeply encouraging and just reward for their sustained academic endeavours.
It should be remembered that these students had not previously experienced public examinations, being the cohort that received Teacher Assessed Grades for their GCSEs two years ago. It is all the more remarkable therefore that the A Level results our Year 13 students have achieved this summer are so impressive. Quite simply, this level of success is down to the students' hard work and the commitment they have shown to their studies. When combined with the utter dedication of the wonderful staff here at QEHS and the ongoing and significant support of parents, this really has been a team effort and another exam season to celebrate.
Results such as these have seen our students secure prized places at top universities, including two heading for Cambridge and another to Oxford, where they will go on to study a wide range of subjects and disciplines including dentistry, medicine, and law. Indeed, 60% of our students received an instant offer of a place at their first choice university, rising to 71% when accepted insurance places are added. Students have similarly been successful in securing much sought after degree apprenticeships. My sincere appreciation, therefore, is warmly extended to all colleagues and the wider QEHS community for the significant part they have played in helping to attain such positive post-18 outcomes for all concerned.
At QEHS we pride ourselves in providing all students with a holistic and enriching educational experience to ensure they leave us as well-rounded, highly capable and confident young people. This is achieved by providing an environment in which students are academically challenged, well cared for, and are afforded access to a broad range of fulfilling and enriching co-curricular activities. As our Year 13 students begin the next steps of their educational journeys, everyone here at QEHS wishes them the very best for their futures, much on-going success and happiness.
Once again, very many congratulations!
Mr. R M Eastham
Headteacher
Published on: 11 Oct 2023
Sixth Form Open Evening
Published on: 17 Oct 2023
Cambridge Chemistry Challenge
In Term 6 of the last academic year we had a group of Year 12 chemists who took part in the Cambridge Chemistry Challenge. This competition aims to stretch and challenge students chemical understanding and provides excellent experience for pursuing their studies further.
This year saw a record number of candidates participate. 10,130 students from just over 600 schools took part in the form of a 90 minute written paper. This paper was set by an experienced team of teachers and university chemists and designed to be accessible to Year 12 students yet take them significantly beyond the syllabus to encourage them to think about Science in the way they would at university.
Congratulations are to be shared with all our chemists who gave up their free time to take part in this competition, but particularly to those six students who were successful in achieving an award. Inaaya K, George B, Chloe M and Matthew I achieved a Copper award, Christian C achieved a Silver and Suzanne T achieved Gold, which put her in the top 10% of students in the country taking part in the challenge.
Mrs S Wooldridge
Teacher of Chemistry
Published on: 11 Oct 2023
Six Year 10 Students receive the Industrial Cadet Bronze Award
Very many congratulations to our successful Industrial Cadet students. They have worked together over a period of ten weeks, looking at issues facing society and how they might be resolved. The awards are recognised across industry and will enhance their future career prospects.
Mr D Hearnshaw
STEM Co-ordinator
Published on: 12 Oct 2023
Sports Leader Qualification - Your Time Leaders
This is our third year of successfully running the Sports Leaders 'Your Time Leaders' initiative. The Year 10 students involved will be accredited with an Award at the end of the programme. The course further develops students' leadership skills by running a sporting competition for younger students at QEHS. The girls will complete training modules, including communication, team work, event planning, self-management and problems solving amongst other areas. Additionally the group will be practicing their leadership skills by running a weekly extra-curricular club. Good luck to this year's SLQ Your Time leaders!
Mrs H Walker
Teacher of PE
Published on: 12 Oct 2023
Headteacher's Commendation Award
Following recommendations from staff, congratulations are in order for Lucy H in 11C, Methuki I in 11S and Evie F in 13A, for being awarded this term's Headteacher's Commendation Awards as detailed below:
Behaviour for Learning:
Lucy H (11C) was awarded the Behaviour for Learning Award. She is an exceptionally well-behaved student. She possesses a strong work ethic, is self-motivated, displays excellent time management skills, always has a positive attitude, demonstrates critical thinking and effective communication skills, curiosity, adaptability, responsibility, and teamwork skills. Lucy goes above and beyond, always listens carefully and takes on board every little advice to succeed.
Learning to Learn:
Methuki I (11S) was awarded the Learning to Learn Award for her outstanding progress towards her GCSE grades.
Leadership for Learning:
Evie F (13A) was awarded the Leadership for Learning Award for exceptional leadership within the Marketing Team and for going above and beyond to make sure that school tours are efficiently and effectively run to endure visiting families to QEHS enjoy an informative experience whilst touring the school with the Sixth Form guides.
Well done to you all.
Published on: 12 Oct 2023
ABRSM Music Exams
Very many congratulations to Isabel C in 13B who passed Grade 4 Cello with Merit.
Mr D Rigby
Acting Head of the Performing Arts Faculty
Published on: 11 Oct 2023
Holly is selected to be in a U18 Squad
Congratulations to Holly K for being selected to be in the U18 England Hockey Yorkshire Talent Academy. After being successful in the Open Assessment last July, Holly has just undergone a month of assessments with last year's squad alongside other hopefuls seeking to be selected for this season.

Holly has worked incredibly hard for this and had hoped to be put forward last season, but England Hockey changed the age criteria and moved from 2 squads (U15 and an U17), to a single U18 squad of 25 players. Holly is of the youngest age group possible to be put forward which makes squad selection even more amazing. Her hard work and determination to achieve her goal has now been rewarded and Holly will face a season of tough training, conditioning and developing her game for the next step... England U16.
Good luck Holly, we are all excited to watch your progress!
Published on: 11 Oct 2023
Jennifer becomes National Champion
Congratulations to Jennifer W in 11D. Over the Summer holiday, Jennifer became National Champion in the 800m Freestyle event taking the gold medal in a lifetime best effort. She also gained a silver medal in the 1500m freestyle and achieved 5th place in the 400m freestyle. This is the second year Jennifer has reached this level of competition and she has been a competitive swimmer throughout her time at QEHS. Jennifer trains 9 times a week, before and after school with a local performance squad 'Bassetlaw Swim Squad' in Nottinghamshire.
Jennifer told us, "It is difficult to get up before 5 o'clock to go training on a school morning, but I love to push myself physically and as an athlete it really helps me to understand my GCSE Physical Education course in greater depth."
Published on: 12 Oct 2023
Luke's RAF Experience
At the end of the last academic year I had an amazing opportunity presented to me in the form of a look at life program with the RAF. This is a newly established program that gave me 5 days on an RAF base getting different experiences from all over the different trades across the RAF. I got to go up into the air traffic control tower and look at how it worked in there and had a look at the fitness trainers in the RAF and what they do. We looked at teamwork and we did teamwork exercises that not only made us trust these people I had only known for a week, but it also made us stop and think logically and really work on our problem solving skills. Another major benefit to the experience is the fact we did mock presentations and interviews and then they came and gave us feedback which allowed me to reflect and improve. I was very lucky as I got to meet the Station Commander of RAF Cranwell both when the program started to make introductions, and again at the end to tell us how we had done. I found this opportunity through my mother as this first year was just to see if it would work and hopefully next year they will open it up to more people.
Luke I, 13C
Published on: 12 Oct 2023
Tom's Experience with Sutton Trust Summer School
Last summer I spent 5 days at the University of Sheffield doing engineering as part of the Sutton Trust Summer School Scheme. It was a great chance to meet new people, learn more about the subject; more about university life at the University of Sheffield and to gain a reduced offer from the University of Sheffield. During the week I attended 3 lectures, all with a Head of a Faculty, about different streams of engineering. This helped me know for sure which type of engineering I would want to study. Another benefit of the week was staying in halls for 4 nights, being able to try out the accommodation on offer at Sheffield, exploring the area surrounding the halls and getting to know my flatmates better. We didn't just spend the week working, with an afternoon spent playing sports against each other; an evening spent at a restaurant in the student's union; an evening in Meadowhall; and finally a formal meal where awards were given out. The week cost me nothing (including travel) and I gained many skills and lots of knowledge so I would definitely recommend applying to a Sutton Trust Summer School. I enjoyed it and made some good mates over the course of the week - well worth giving up a week of my summer between Year 12 and 13 for.
Tom W, 13B
Published on: 11 Oct 2023
Gainsborough Old Hall
As part of the History department's Scheme of Learning on Tudor society, all of Year 8 visited Gainsborough Old Hall during Term 1. This was a valuable opportunity to learn more about Tudor society and our local history. Students were then given the task of redesigning the Old Hall to update it and make it more like a Prodigy Tudor House. Emilia and Sophie describe their afternoon at Gainsborough Old Hall:
'The trip to the Old Hall was very interesting and we learned a lot. We first had a look around the exterior, starting with the courtyard which would have had a knot garden but now has benches to sit on. Then we looked at the west wing which had nice painted black and white stripes. Around the back, there was one of the only stone parts of the building and the back wall had large windows.
Going inside, there was the main hall where you would eat and entertain guests. Above the main hall, there was a little room for ladies to retire too. In the kitchen there were two stoves, one for soup and the other for meat. Also in the kitchen there was a bread or pastry oven.
Upstairs, there was a long hall for women to stroll and walk and gaze upon their knot garden. On the left there is the first bedroom with a flushing toilet and a hall before the bedroom. Another bedroom was slightly different, with a fancier bed and a fireplace.
Downstairs again, there was a dark-panelled dining room. It had dark panelled walls and furniture.'
All the students really engaged with the design challenge and have produced some wonderful proposals. Well done to everyone.
History Department
Published on: 12 Oct 2023
Silverstone
On 10th and 12th October, some Year 9 students went on a trip to Silverstone. Our group started off by learning the history of the track and cars, where we learnt about it being an aircraft base during the war, then to a race course with hay for barriers. Safe, right! The course first had a race on 2nd October 1948. At the time, the cars weren't very aerodynamic and didn't have many safety features. This meant when there was a crash it often resulted in serious injuries. During the talk we were able to hold different types of tyre, one of the old ones and new ones for different types of weather which gives grip when driving. We also learnt one of their tricks as the car has to be over a certain weight when they cross the finish line. Drivers pick up bits onto their tyre to bring up their final weight. We were lucky enough to be able to touch Max Verstappen's wing from one of his races. We learnt how they mostly used carbon fibre as it is strong and can withstand impact but also is lightweight.
We even got to stand on the old track and take pictures in front of a mural of Lewis Hamilton. As you can see from the picture, the track has changed many times over the years- in total it has changed nine times. The last change was in 2010. When our group went on Tuesday we were fortunate enough for it to be a testing day which meant we got to watch the cars go round the luffield (where we were standing). However, there was a crash where one of the cars swerved off into the barrier and the car had to be taken back. We then sat down and had lunch. After this, we were able to go to the gift shop and get a toy car, magnet, mug or keyring etc.
After lunch, we headed into the museum, where we were able to look at the suspension of an F1 and a family car. We got to look at engines, gears, the materials on a tyre, breaks and speed levels. We then went to do an interactive race using mini cars in which we could drive round a track in groups of four. This was really fun and brought out our competitiveness, especially when we crashed or overtook someone. Our group then headed back into the museum and looked at the aircraft history of the track. It was used between 1943 to 1960 as a RAF base. In the aircraft section I was able to try and hit bombers in the sky with a pretend gun. I was shocked at this, being only able to hit three in one minute. We then went downstairs and looked at how the cars progressed over time and became more aerodynamic, safer and filled with sponsors. We looked at the history of Lewis Hamilton and how he was knighted and saw his racing outfit from 2016. After this we went to look at the different types of flags and what they each meant and took a quiz on them. I then took pictures with my friends, of us holding out flags from a 'side line'.
Before going into the simulation, we took pictures on the podium in groups, pretending to push each off for first place. We were then able to go into a simulation in which we were driving a car. Looking at types of cars from different generations, overtaking them, watching them crash in front of us and just missing colliding with them too was an amazing experience. In the end we were just able to scrape a narrow first - a motorbike milliseconds behind us. Overall, it was a great trip and we would definitely go again.
Ruby W and Robyn W, 9B
Published on: 12 Oct 2023
Incredible pencil drawing of David Attenborough by Chloe (Year 10) when she was in Year 9
The first challenge we set our new GCSE artists in term 6 is to create a six-tone image of somebody they admire. We challenge them to find somebody with an interesting face and so when Chloe chose Sir David Attenborough, we thought great choice. I don't think however that either Mrs Walsh or I envisaged that the resulting portrait would be of such incredible quality - look closely and you can see every hair follicle and pore on his skin! It is so remarkable that it felt only right to share it with the man himself. So, Chloe wrote a letter and along with a mounted copy of the image (we couldn't send the original because of exam board regulations) it was sent to Sir David, and this week he wrote back!
Well done, Chloe, it is an amazing achievement and so well deserved! We look forward to seeing your next creative endeavours.
Mrs Muir & Mrs Walsh
Art Department
Published on: 12 Oct 2023
Darwin - House Winners - A Review of 2022-23
We started the academic year of 2022/2023 with Senior House Football and Netball and secured 1st for the boys, and 3rd for the girls. An excellent start! Whilst these sporting activities were taking place, House Drama rehearsals were in full swing and the hard work and dedication of all years was evident in the results. During Term 2 our budding athletes smashed it, particularly the girls in House Cross Country. In January our musicians shone on stage winning 1st and 2nd in the categories. Outside of performing arts and sports, our forms continued to bring together teams to participate in the events; our Junior Mathematicians added to our House points with another success of 2nd place. Finally, to finish the year off, the whole of Darwin came together to support and take part in Sports Day which helped us to bring home the House Championship. After a brilliant success we look forward to seeing how Darwin will do next year!
Darwin Captains
Published on: 13 Oct 2023
STEM Club
Please see below for the STEM Society Admission Booklet which was shared with all parents earlier this term to promote what STEM has to offer at QEHS.
Published on: 11 Oct 2023
DfE Funding spurs vital IT Infrastructure Upgrade for E-Learning, Curriculum Development, and Communication
In a significant stride toward modernizing education in the digital age, a recent IT infrastructure upgrade funded by the Department for Education (DfE) has been completed, setting the stage for enhanced e-learning, curriculum development, and seamless communication here at QEHS. Timely and strategic, this transformational project unfolded during the summer holidays, ensuring minimal disruption to the Teaching and Learning process.
A Boost for E-Learning
The DfE funding facilitated the integration of cutting-edge technology into schools, colleges, and universities across the nation. As the education sector increasingly turns to digital platforms, the need for a robust IT infrastructure has become paramount. This upgrade caters to the burgeoning demand for e-learning solutions, ensuring that educators and students at QEHS have the tools they need to excel in the digital realm.
With improved network connectivity and wireless systems, educators can now harness the full potential of e-learning resources. This upgrade allows for seamless streaming of high-quality educational content, interactive virtual classrooms, and access to a plethora of online learning materials. Whether it's a science experiment conducted virtually or a history lecture streamed in real-time, this enhanced infrastructure will support the delivery of engaging and dynamic e-learning experiences.
Curriculum Development Reimagined
One of the cornerstones of modern education is adaptability. The newly improved IT infrastructure paves the way for staff to develop and deliver curriculum content that is not only responsive to students' needs but also adaptable to changing circumstances. The integration of cloud-based resources and collaborative platforms means that educators can access, update, and share curriculum materials from anywhere, at any time.
Seamless Communication
Clear and efficient communication is essential within any educational institution. The IT infrastructure upgrade bolsters communication tools, making it easier for teachers, students, and administrators to connect and collaborate. From virtual parent-teacher meetings to real-time messaging between faculty members, this improved system streamlines communication, enhancing the overall educational experience.
The upgrade has allowed us to embed a robust praise and reward system through Satchel One, that staff, students and parents have fully embraced and which is already having a huge impact.
The Legacy of Summer Upgrade
As we look ahead, the impact of this DFE-funded upgrade promises to be long-lasting. It equips QEHS with the tools necessary to navigate the evolving landscape of education, where e-learning, curriculum development, and seamless communication are key components of success. This investment ensures that the future of education is not only digital but also more accessible, engaging, and adaptable to the needs of all learners. The work carried out during the summer holidays has laid the foundation for years of educational advancement and innovation.
Mr A O'Neill
ICT Systems Manager
Published on: 11 Oct 2023
Toilet Refurbishment
During the summer holidays, whilst everyone was enjoying a well-earned break, a long-awaited transformation was undertaken at QEHS. Four toilet facilities, which had been the topic of greatest discussion for Student Council for many years, were stripped out and completely replaced, from floor to ceiling. The choice of colour was chosen by the students themselves following a vote undertaken across all form groups. We were delighted to be able to offer students access to these upon their return to school in September.
Our first all-gender toilet facility was opened in our Lower School building in 2019 and was very well received by students. We therefore decided to replicate this in the Upper School. Between pandemics and funding limitations , it has unfortunately taken a little longer than anticipated to be able to action this, but two new all gender facilities in the Upper School building now not only provide a facility to those who require a gender-neutral facility but ensure inclusivity for all students and allow all students equal access to new facilities.
Apart from wanting to create a nicer facility for students, the change in layout to a more open-plan facility ensures a safe environment with the potential for any bullying, intimidation and vandalism minimised. Younger students had raised concerns that having toilets behind closed doors can be very daunting for them to walk into, not knowing who or how many students are in there. The more open layout ensures students do not have to walk into an unknown environment which could cause them to feel uncomfortable. Enclosed toilets have historically tended to end up being areas in which students "hang out", especially in inclement weather and we have created additional indoor social spaces this year to counter the need for this (see article below). Each toilet facility across the school is supervised by a member of staff at both break and lunchtime which circumvents any negative behaviour. Students can access the facilities quicker as there are now no queues or crowding in these areas.
We do appreciate of course that sharing facilities with a different gender will not be everyone's preference. We have always reassured students via the Student Council that we are aware that some students may prefer to use male/female facilities rather than those for all genders and will ensure that facilities continue to be available to suit all preferences. In addition to the two new all-gender facilities, there are brand new male and female facilities between the English and Maths departments.
Thank you to QEHS Foundation for their financial support. The Foundation contributed £45,000 match funding towards this project allowing it to go ahead this year. Thank you also to Hutchinsons for undertaking the work so quickly and efficiently, overcoming all unexpected obstacles and turning it around within the agreed timeframe to ensure our students had facilities to use upon their return.
Mrs K Peaker
School Business Director
All Gender Toilets - Before and After
Male and Female Toilets - Before and After
Published on: 12 Oct 2023
Dining Area
Recognising that, for a school our size, there are limited indoor social spaces, we were keen to expand our provision. It was recognised that the Upper School Hall, adjacent to our main dining facility, would be an ideal extension to this. With the purchase of some new mobile folding tables, the hall can now be transformed every lunchtime into an additional dining/ social area. This has been very well received by students.
We currently have 6 tables but are looking to extend this further over time. If you are able to contribute towards this school improvement, please do so via the payment option on SCOPay. If you do not have access to SCOPay, but would like to support QEHS School Improvement projects, please contact [email protected]
Mrs K Peaker
School Business Director
Published on: 17 Oct 2023
QEHS Foundation
The School Charity, QEHS Foundation, has the following aims:
The Charity aims to support and assist the students of Queen Elizabeth's High School by funding activities and events not covered by the School Budget Share and offering financial assistance to students of families on low incomes.
The Foundation's Trustees have been pleased to be able to support a number of school projects over recent years including the fitness suite installation, the new toilet facilities, developing school rewards programmes and a laser cutter for the Technology department.
In addition to school and department applications, the Foundation also accept applications from students. Any current student in the school can apply to the Foundation for a grant up to £200. Grants could be given for things such as support for extra-curricular sporting, music and performing arts activities, research projects or learning activities outside of school where they may need financial assistance. Applications can be made throughout the year and students should submit their case by completing the application form which can be found on our website here.
Mrs K Peaker
School Business Director
Published on: 17 Oct 2023
Supporting QEHS Projects
At Queen Elizabeth's High School, we strive for continuous improvement in all that we do. Whilst we have a number of school improvement projects lined up to develop the learning environment, the funds to support them are unfortunately somewhat lacking. So that you are aware, our current and recent projects include:
Toilet Refurbishment

Dining Tables/ Social spaces

Wall Art

External fencing
We are looking to invest time in new fundraising initiatives and sponsorship opportunities moving forward to allow us to make the necessary changes for QEHS and ensure only the best experiences for our students. If you would like to support us in our endeavours, please contribute towards any or all of our projects via SCOPay. The projects are listed separately on SCOPay so that you may specify exactly what you want your donation going towards. Whether there is something your child is keen to support which would improve their daily experience with us or something you wish to see improved yourself, please visit SCOPAY and make a donation at any time via the payment options in the Trips section. As targets are met, or new projects are underway, we will keep you posted through our newsletters and social media. If you have any suggestions to be added to our school improvement fundraising priorities, please do get in touch and let us know.
Thank you so much to those who have contributed already. The funds raised so far this year via SCOPay donations are:
Toilet Refurbishment = £235
Dining Tables/Social spaces = £202
Wall Art = £121
External fencing = £92
QEHS Projects (General) = £201
Buy a Brick Campaign = £182.50
More information will follow about the Buy a Brick Campaign shortly.
Thank you in advance for your continued support!
Mrs K Peaker
School Business Director
Published on: 17 Oct 2023
The Positive Impact of Work Experience
At QEHS we see Work Experience as an important element of getting into any career. Benefitting from Work Experience can make students stand out from the crowd on applications for courses, training and jobs.
In July, a significant number of our Year 10 and Year 12 students were accepted on work experience placements and the feedback from parents, students and employers has shown very clearly how much both sides have gained form the experience and how much each has appreciated the input from the other. Staff who contacted the students and employers during work experience week heard comments such as:
"Your students have gone above and beyond and are a credit to the school"
"His approach to the placement was mature and professional and his input was well received by the team"
"She was a star- we could not have asked for a more pro-active and enthusiastic student"
"He was rather shy to begin with but soon found his feet and became a valuable member of the staff"
"She was keen to learn and has been offered a Saturday job to further her interest in the business"
These comments, and many more like them, support the school's view that work experience really does have a positive impact on our students and their mentors and they show how valuable work experience can be as the students move through their life at the school and into the world of further education or work.
Students have already been able to make use of some of their new skills and, in conversation, have demonstrated their appreciation of the time and commitment from their employers to ensure their experience was as beneficial as it could be given their age. Employers have commented on their young "employees" gaining skills such as communication, independence, patience, organisation, self- motivation and team working, to name but a few.
The Work Experience programme will be running again this academic year, with block placements for Year 10 and the Year 12 taking place between 8 and 12 July 2024 and extended placements for the Sixth Form throughout the year in Leadership and Enrichment time. As always, we advise our students to start making enquiries about placements as soon as possible as other schools in our catchment area are also sourcing work placements and in order to carry out the appropriate health and safety checks all block placements need to be booked with the Work Experience co-ordinator, Mrs Thorpe, by 28 March 2024.
Letters will shortly go out to parents of Year 10 and Year 12 students explaining the process for work experience and Mrs Thorpe will communicate to the students through assemblies, form room visits and Google classroom, the information the students will need to engage with the programme, including advice on employers where specific procedures need to be followed - an example being applying for Hospital places. Placement bookings will once again, be done through Google Forms which can be accessed through the Work Experience area of the school website. Students can source their own placements or speak to Mrs Thorpe for advice on past placements or areas which can support their particular career aspirations.
We look forward to another year of engagement between our students and local employers.
Mrs J C Thorpe
Work Related Learning Co-ordinator
Published on: 11 Oct 2023
MFL Newsletter
Published on: 11 Oct 2023
Alumni Update
Audra Morris
University of Cambridge
BA in Sociology and Politics
Currently studying an MSc in Refugee and Forced Migration Studies at the University of Oxford.
Taking Sociology at A Level ignited a passion for understanding and analysing the world around me. It is because of the brilliant Sociology teachers at QEHS that I decided to study Sociology at Cambridge, which in turn has led to a masters at Oxford. The Sociology department offered a lot of support in the application process, including in preparing my personal statement and practising for interview, which greatly contributed to my success. In my time at Sixth Form, I learnt valuable life skills and gained experiences that helped me to succeed at undergraduate study. QEHS also provided a brilliant community to thrive in and lots of opportunities to develop outside of academics. I really enjoyed my time at Sixth Form.
Published on: 20 Oct 2023
Staffing Update
We welcomed the following new members of staff to QEHS during this term:
Mrs Almufti – Teacher of RE
Ms Auchterlonie – Teacher of Business and Economics
Mrs Bestwick – Teacher of MFL
Mrs Clapham – Teacher of Music (maternity cover)
Mrs Gibb – Teacher of Maths
Mrs Howard – Teacher of Spanish
Mr Howe – Teacher of Physics
Mr King - Premises Manager
Miss Kocholova – Clerical Assistant
Mrs Mann – Welfare and Attendance Administrator
Mrs Player – Head of RE
Mrs Turney – Teacher of Music / Acting Head of Elgar (maternity cover)
Mrs Viscomi – Teacher of Biology (temporary)
Mrs Wallis – Teacher of English (maternity cover)
Mr Wood – Teacher of Humanities (temporary)
Mrs Regan – Acting Head of English
Published on: 17 Oct 2023
Students involved in House Events 2022/23
Published on: 11 Oct 2023
Former Members of QEHS staff pay their respects to fallen Old Boys at The Somme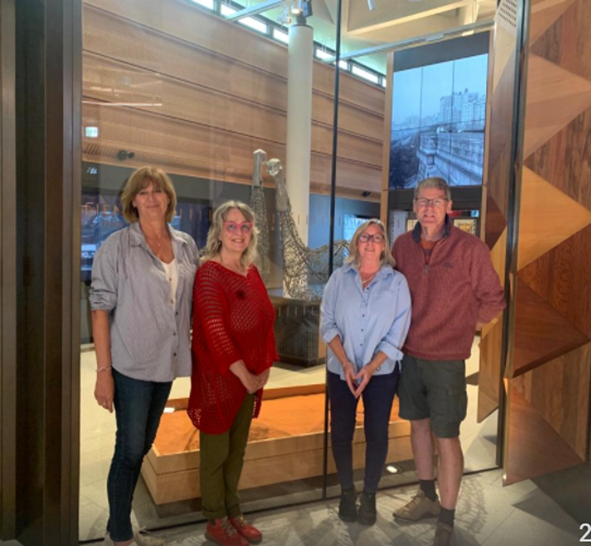 Published on: 12 Oct 2023
The Bearded Fisherman
Towards the end of the academic year, on Friday 21 July, we had a Civvies Day in support of The Bearded Fisherman. In total we raised £291.15. Thank you for your contributions!
Published on: 12 Oct 2023
Gainsborough Trinity Foundation
Please see the letter from the Gainborough Trinity Foundation below which was in response to the Civvies Day fund raising during Term 3.
Published on: 12 Oct 2023
Gainsborough Educational Charity
Published on: 11 Oct 2023
Lost Property
If your child has recently lost an item whilst in school, a reminder that lost property is open on a Tuesday and Thursday at morning break and lunchtime. Please encourage your child to come and look for their missing items. Similarly, we still have a lot of items that were left in lockers and around site at the end of Term 6 that do not have names on. If your child thinks they left something in their locker please remind them to come and have a look for it when lost property is open.
Published on: 11 Oct 2023
Term 2 House Events
Published on: 12 Oct 2023
A Chirstmas Celebration
Published on: 11 Oct 2023
Mvumi Newsletter
Please see the latest newsletter from our partner school in Tanzania, the Mvumi School Trust below:
Published on: 11 Oct 2023
Follow us on Social Media
Facebook - https://www.facebook.com/QueenElizHigh
Instagram - https://www.instagram.com/qehsgainsborough/
Twitter - https://twitter.com/QueenElizHigh
Published on: 11 Oct 2023